Day of Remembrance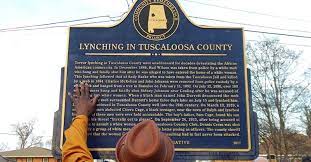 On Juneteenth this year, many people gathered in person or online to bear witness to the death by lynching of Alonzo Tucker in Coos Bay, Ore., in 1902. In partnership with the Oregon Remembrance Project and the Equal Justice Initiative, this act of public remembrance called on people of faith to reckon with the racist legacy we inherit in the Pacific Northwest, and the ways in which that legacy continues to live in on in subtle and blatant ways up until the present day.
But the larger work of truth, repair and reconciliation continues. In this spirit, we invite you to a state wide "Day of Remembrance" on Sunday, Sept. 19, 2021. Sept. 18, 1902, was the day of Alonzo Tucker's lynching, and we invite you to acknowledge this anniversary by joining us the following day to honor Alonzo Tucker's memory through a renewed commitment to justice.
We invite you to participate in the following ways:
Focus your worship service that weekend on the racist legacy we inherit in Oregon and the ways in which your community can acknowledge and reckon with that legacy in your local context.
Invite people of faith in your community networks to join us online from 6:30 to 7:30 p.m. on Sunday, Sept. 19, for a special "Liturgy of Remembrance."
Consider joining us for an informational session from 7:30 to  8:30 p.m. on Sunday, Sept. 19, on the upcoming "Reckoning with Racism" Learning and Discernment cohort. This new iteration of Common Table's "Reckoning with Racism" is open to faith community teams who participated in last year's cohort and new teams who have never engaged in this work before. All that's required is a group of at least four committed volunteers from your faith community, denominational body or organization. For more information contact our team at commontable@emoregon.org.
You can also email commontable@emoregon.org to RSVP for #2 & #3 above, or to let us know if you plan on hosting a special service that weekend. We'd love to collect sermons, liturgies, art projects and/or other special reflections around this focus to share with others.
We live in a time when our history is actively being erased and re-written by some segments of our society, and all acts of remembrance are acts of resistance.
For consideration to add a faith-based or community event on the EMO Calendar, please fill out our Event Submission Form.