Ecumenical Ministries of Oregon's Northeast Emergency Food Program (NEFP) meets the urgent food needs for over 40,000 people each month.
During the COVID-19 pandemic, NEFP is limiting our hours to Thursday and Saturday from 12 to 3 p.m. During this time, we are practicing social distancing to protect our clients, volunteers and staff. We have temporarily discontinued "shopping" the shelves for food items inside the building. Instead we are distributing boxes of food outside by drive-up or walk-up.
Since the COVID pandemic began, NEFP has served over one million individuals (an increase of 1,300 percent) and distributed 50 million pounds of food. Watch KGW News story, Portland emergency food program seeing more than 10 times as many people as it did pre-pandemic, (Nov. 8, 2021).
View NEFP's food box distribution in action in the Oregon Food Bank video "Addressing Hunger in the Wake of COVID-19."
Many of the families and individuals we serve only need to come once or twice, in urgent and often devastating emergencies. Others have been coming for years, like clockwork, struggling with a social emergency of disparity, inequality and a perpetual lack of resources. This is where NEFP comes in, helping people from falling through the cracks.
Learn more about:  Who We Are | Our Services | Our Supporters
Subscribe to NEFP's Tree of Life enewsletter (view the latest issue). Sign up now!
Follow NEFP on Facebook and Instagram
WHO WE ARE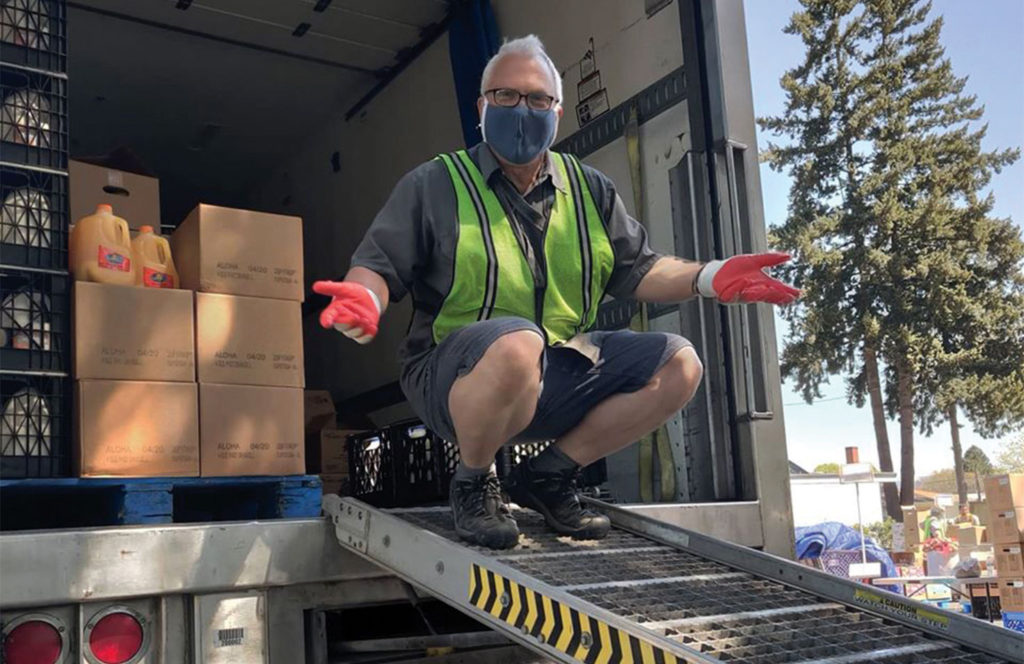 Northeast Emergency Food Program meets the urgent food needs of our Portland metro area neighbors, primarily people living in east Portland, many of whom live east of 82nd Ave. However, unlike many other food pantries in the region, we do not have a geographic boundary—meaning, people come to us from across the tri-county region of northwest Oregon, as well as southwest Washington. We are also able to help those who are experiencing houselessness and those who are undocumented. Further, we are open on Saturdays, which allows us to serve families who work during the week.
In addition to meeting the urgent needs of these neighbors, NEFP also works to develop community solutions to secure access to adequate, affordable and healthy food. We ground our work in the belief that nutritious food is a basic human need and a building block for a healthy life of possibility.
NEFP is a vital part of the community ministry network of the Ecumenical Ministries of Oregon.
We primarily serve:
> Families with children; over 40 percent of our recipients are children.
> The unemployed and the underemployed.
> People with special needs, including the disabled and the elderly.
> A high percentage of Immigrants and refugees.
> People experiencing crisis.
In accordance with federal law and the U.S. Department of Agriculture Policy, this institution is prohibited from discriminating on the basis of race, color, national origin, sex, age or disability.

OUR SERVICES
We provide emergency and urgent care:
> Three- to five-day (or more) supply of nutritious groceries, frequently valued at $200 or more.
> Fresh fruits and vegetables, dairy, bread and meat.
> Weekly distribution of food—primarily fresh produce, grains and proteins—to the Sacajawea Head Start with our mobile pantry.
> Distribution of food to other EMO programs, including those using HIV Services, Sponsor Organized to Assist Refugees, and Russian Oregon Social Services.
> Through our Service Learners Initiative, we provide job training, skill building and exposure to nonprofit services to 15 to 20 people every year. We work with everyone from graduate school interns to developmentally disabled adults. Our graduates of the program have gone on to find employment in food services, social work and retail management.
Due to the COVID-19 pandemic, we are limiting our hours to Thursday and Saturday from 12 to 3 p.m. During this time, we are practicing social distancing to protect our clients, volunteers and staff. Therefore, we have discontinued "shopping" the shelves for food items inside the building. Instead we are distributing boxes of food from outside.
ON HOLD: Sacajawea Mobile Food Pantry—Our host church, Luther Memorial Lutheran Church, has a longstanding relationship with our immediate neighbor, Sacajawea Head Start. With Luther Memorial volunteer and financial support, NEFP has for years offered the 170 families at Sacajawea supplemental food offerings once a week. This type of "backpack program" included staple foods like tuna fish and mac-and-cheese and the occasional fresh food.
However, in recent years, the families coming to receive this food dwindled down to about four or five a week, and the program did not really seem to meet their needs. Therefore, during the 2015-16 school year, NEFP launched the Sacajawea Mobile Food Pantry. For this program, we instead bring the food directly to the families at Sacajawea. We made sure that we heard their feedback, so we include primarily fresh foods, breads, dairy and the same tuna and pasta staples as before. We now serve 40 or 50 families every week, which is a 1,000 percent increase in service! Thanks to New Seasons Market, we have reusable bags the families can bring every week to gather their groceries.
There are future plans to bring the Sacajawea Mobile Food Pantry to other sites in the Cully neighborhood. Donate now to help support this expansion! To get involved, contact NEFP.

OUR SUPPORTERS

Our dignified and equitable service is a reflection of a whole network of committed volunteers. As a neighborhood food resource, NEFP relies heavily on the regular support and involvement of churches, individuals, local businesses and foundation grants. Your generosity helps us to continue meeting the needs of over 800 families each month.
To help NEFP meet the sharply increased demand for our services, we are looking for 30 new sustaining partners: individuals and families who will commit $5 to $200 a month on an ongoing basis. Sustaining Partners keep us serving year in and year out. Donate now.
We would like to specifically thank some of our biggest congregational supporters:
Ainsworth United Church of Christ
Augustana Lutheran Church
Central Lutheran Church
Congregation Beth Israel
First Presbyterian Church in Portland
Fremont United Methodist Church
Luther Memorial Lutheran Church
Mosaic Church
Piedmont Presbyterian Church
Rose City Park United Methodist Church
St. James Lutheran Church
St. Luke Lutheran Church
St. Michael and All Angels Episcopal Church
Sunriver Christian Fellowship
Westminster Presbyterian Church
Contact
NEFP location
Luther Memorial Lutheran Church, 4800 NE 72nd Ave., Portland, OR 97218 (accessible by Trimet bus lines 71 and 72)
hours 12 to 3 p.m., Thursday and Saturday
phone (503) 284-5470
email nefp@emoregon.org
A'Jay Scipio, Program Manager