Collins Summit 2021
November 10, 2021 @ 7:00 pm

-

8:30 pm

$20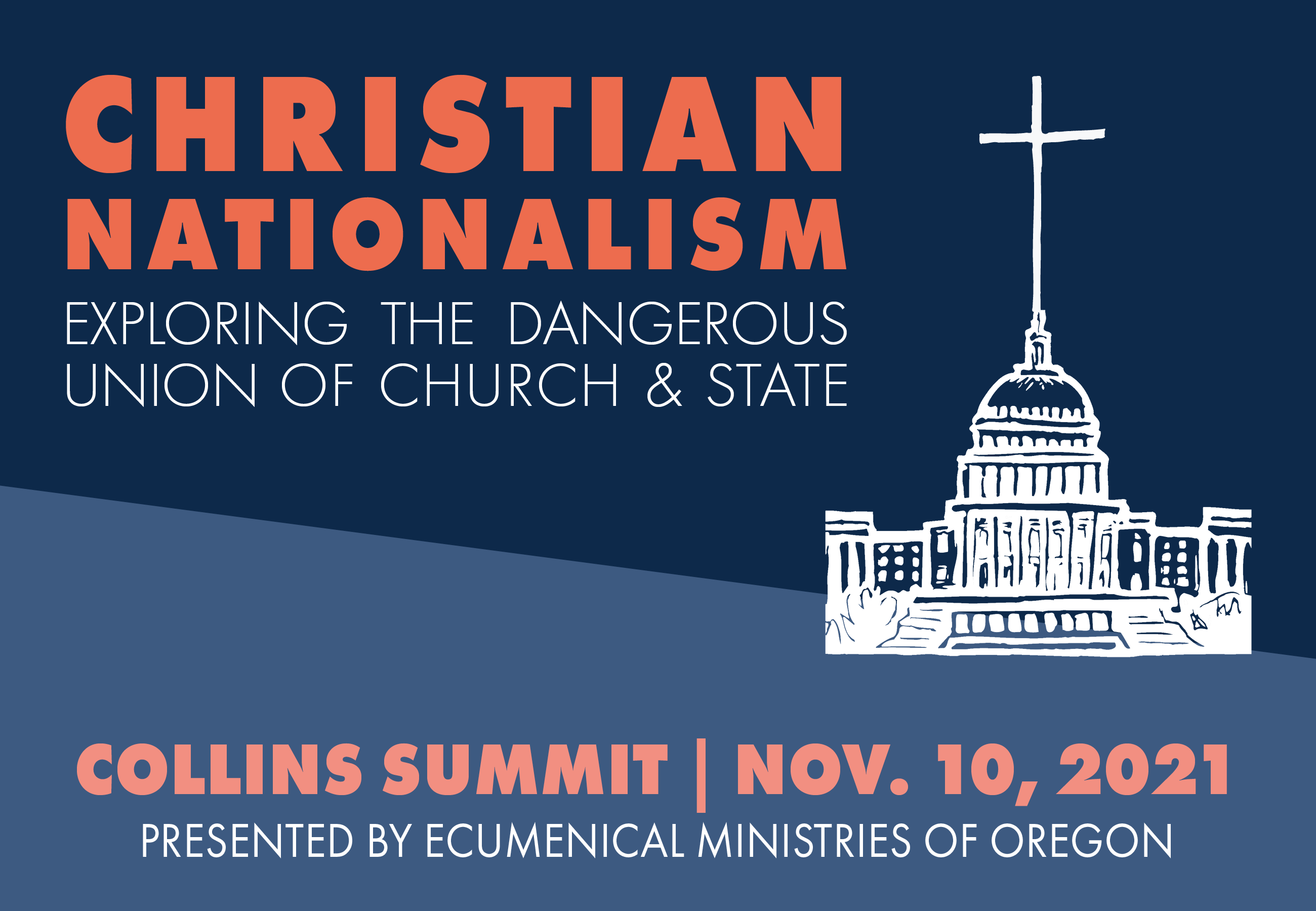 WEDNESDAY, NOV. 10, 2021, 7 PM
On Jan. 6, 2021, the world was shocked by images of protestors storming the U.S. Capitol Building. Many held a flag in one hand and a Bible in the other. Some carried crosses, while others prayed for God to restore the United States as a Christian nation.
For 54 years, the annual Collins Summit has bravely taken on subjects at the center of current events. This year is no exception. At the 2021 Collins Summit, we will explore the challenging topic of Christian Nationalism—the belief that the United States is defined by Christianity, and that the government should work to keep it that way.
Join us as we explore this timely subject and where we go from here.
FEATURING (VIRTUAL) PRESENTATIONS BY

Kristin Kobe Du Mez
A New York Times bestselling author and professor of History and Gender Studies at Calvin University, Du Mez holds a Ph.D. from the University of Notre Dame. Her research focuses on the intersection of gender, religion, and politics, and her most recent book is "Jesus and John Wayne: How White Evangelicals Corrupted a Faith and Fractured a Nation." Read her bio.
Kaitlin Curtice
An enrolled member of the Potawatomi Nation, Curtice writes on the intersection of Indigenous spirituality, faith in everyday life, and the church. She has contributed to OnBeing, Religion News Service, USA Today, and Sojourners, among others, and she was interviewed for The New Yorker on colonization within Christian missions. Her new book is "Native: Identity, Belonging and Rediscovering God." Read her bio.

PANEL OF OREGON LEADERS
After watching virtual presentations from our keynote speakers, a live panel of Oregon leaders will go deeper into the discussion and address your questions. Submit questions to collins@emoregon.org. Panelists include: The Rev. Andrea Cano, EMO; The Rev. Ernestein Flemister, St. Luke's Episcopal, Grants Pass; Rick McKinley, Imago Dei Community; and Sylvester "Sal" Sahme, Confederated Tribes of Warm Springs.
LOCATION: IMAGO DEI COMMUNITY OR ONLINE
Imago Dei Community (sanctuary): 1400 SE Ankeny St., Portland.
Online: Stream live on your computer, phone, tablet or smart TV.
SPONSORS (TO DATE)

Robert & Carolyn Cornie; Episcopal Diocese of Eastern Oregon; Evangelical Lutheran Church in America, Oregon Synod; Presbytery of the Cascades; St. Michael and All Angels Episcopal Church; United Methodist Church Oregon-Idaho Annual Conference. If your faith community would like to be an event sponsor, please fill out a Sponsor Agreement.
REGISTER NOW

Registration Fee: $20 (scholarships available; contact emartin@emoregon.org).
For consideration to add a faith-based or community event on the EMO Calendar, please fill out our Event Submission Form.