Dining Out For Life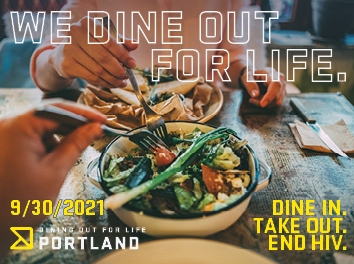 WE DINE OUT TO END HIV.
WE DINE OUT TO GIVE BACK.
Dining Out For Life usually comes to Portland every April. Due to COVID restrictions, we are planning to hold our event on Sept. 30.
Both OHSU's Partnership Project and EMO's HIV Day Center have continued to provide services during COVID. In fact, our services have become even more critical. We also know that our restaurants have struggled this year. We ask our Portland metro area community to support both our restaurants and our programs by dining out or ordering take out from participating restaurants on Thursday, Sept. 30! View participating restaurants.
Ways to participate:
Complete a donation envelope at participating restaurants on Sept. 30 and leave with the server or ambassador.
Visit the QR code located on "I Dined out" sticker that you will get when you order in or take out on Sept. 30 from a participating restaurant.
Or you may GIVE NOW (or fill out form below).
Thank you to our Dining Out For Life Sponsors: National sponsor Suburu; local sponsors DDI Benefits, KGW, Lamar Advertising, N2 Publishing, The Oregonian, Pacific Outdoor Advertising, Portland Monthly, and Schoenfeld & Schoenfeld P.C.
A special thank you to our Honorary Chair Rose City Pride Bands.
For consideration to add a faith-based or community event on the EMO Calendar, please fill out our Event Submission Form.