End Gun Violence Sabbath: Nov. 15-17, 2019
November 15, 2019

-

November 17, 2019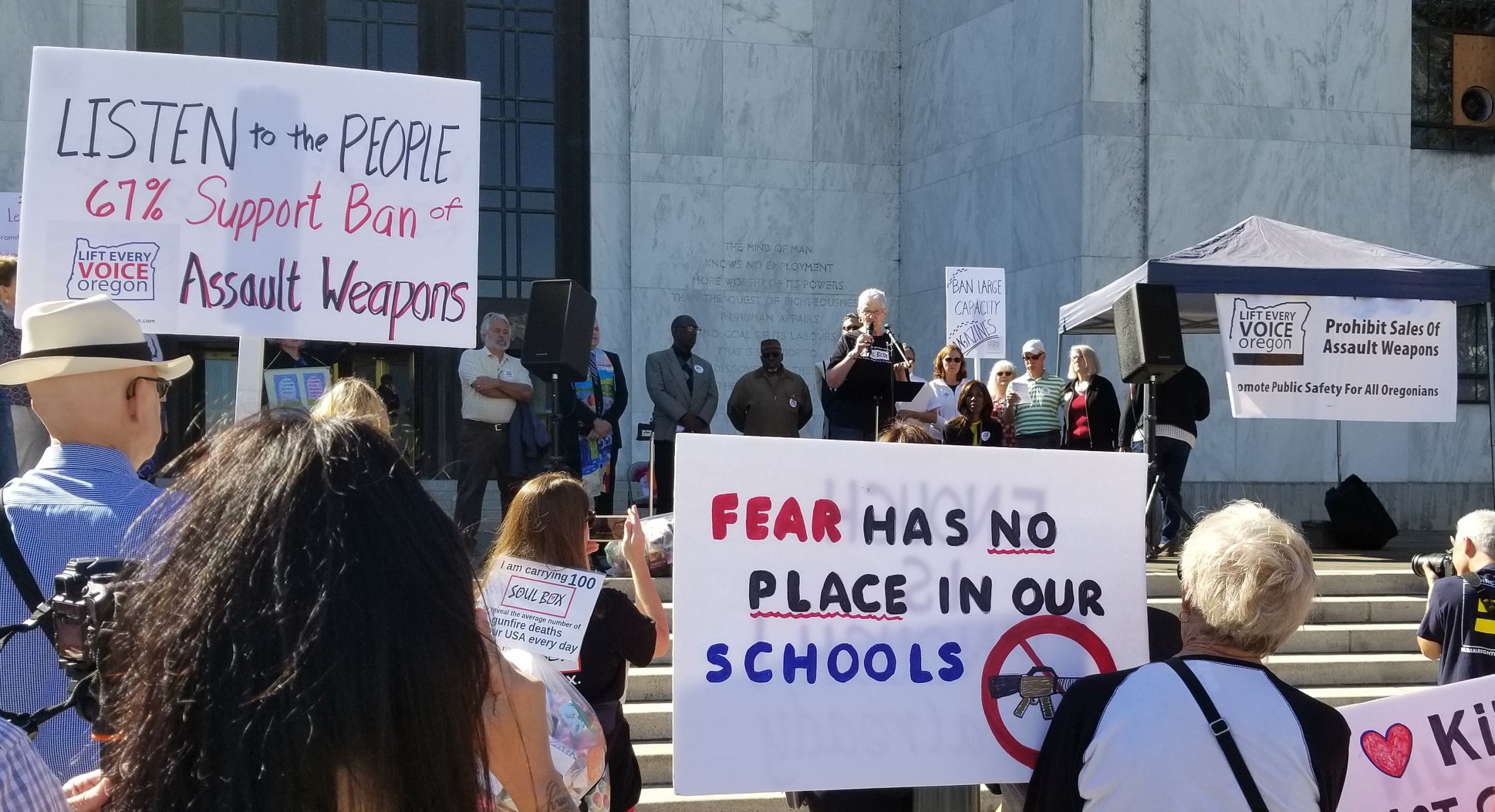 EMO and Lift Every Voice Oregon (LEVO) invite faith communities from all backgrounds and all parts of our state to join us on a single weekend, lifting our voices for a peaceful world free from gun violence.
On the weekend of Nov. 15 to 17 (whichever day fits your faith community's worship schedule), people from diverse religious backgrounds will unite in remembering gun violence as part of their regular worship—through a prayer, note in the bulletin, sermon, guest speaker or educational program. Join us in lifting a collective voice for peace and an end to the gun violence that leaves our communities grieving.
There are many ways you can participate. Get creative! We will email you a resource packet with sermon reflections, prayers, hymns and educational sources when you register.
Sign on the End Gun Violence Sabbath: Add your contact/congregation information so we know how many Oregonians are taking part. We will send you the End Gun Violence Sabbath resource guide once you register. Contact us with any questions at cosa@emoregon.org.
Participating faith communities include: Ainsworth United Church of Christ, Portland; Augustana Lutheran Church, Portland; Cedar Hills United Church of Christ, Portland; Congregation Beth Israel, Portland; Congregational Church of Lincoln City, UCC; Episcopal Church of the Good Samaritan, Corvallis; Falls City UMC and member of Methodist Federation for Social Action; First Christian Church (Disciples of Christ), Portland; First Congregational United Church of Christ, Portland; First Immanuel Lutheran Church, Portland; First Lutheran and Peace Lutheran Churches, Astoria; First Presbyterian Church, Cottage Grove; First Unitarian Portland; First United Methodist Church, Eugene; Forest Grove United Church of Christ; Forest Grove United Methodist Church; Living Stream Church of the Brethren, Portland; Parkrose Community United Church of Christ, Portland; Portland Covenant Church; Portland Mennonite Church; Saint Mark Lutheran Church, Salem; South Coast Jewish Community-Mayim Shalom, Coos Bay; St Michael and All Angels Episcopal Church, Portland; St Timothy Lutheran Church, Portland; Temple Beth Israel, Eugene; The Soul Box Project, Portland; West Portland United Methodist Church; Westminster Presbyterian Church, Portland.
EMO's partner in this work is Lift Every Voice Oregon, a coalition of faith-based communities—Christian, Jewish, Muslim, Buddhist and other people of good will—promoting policies prohibiting the sale of assault weapons and large-capacity magazines. This grassroots organization, run primarily by volunteers, is advocating for safer schools, houses of worship and communities.
For consideration to add a faith-based or community event on the EMO Calendar, please fill out our Event Submission Form.