Oregon Faiths 4 Climate Justice
October 15, 2021

-

October 18, 2021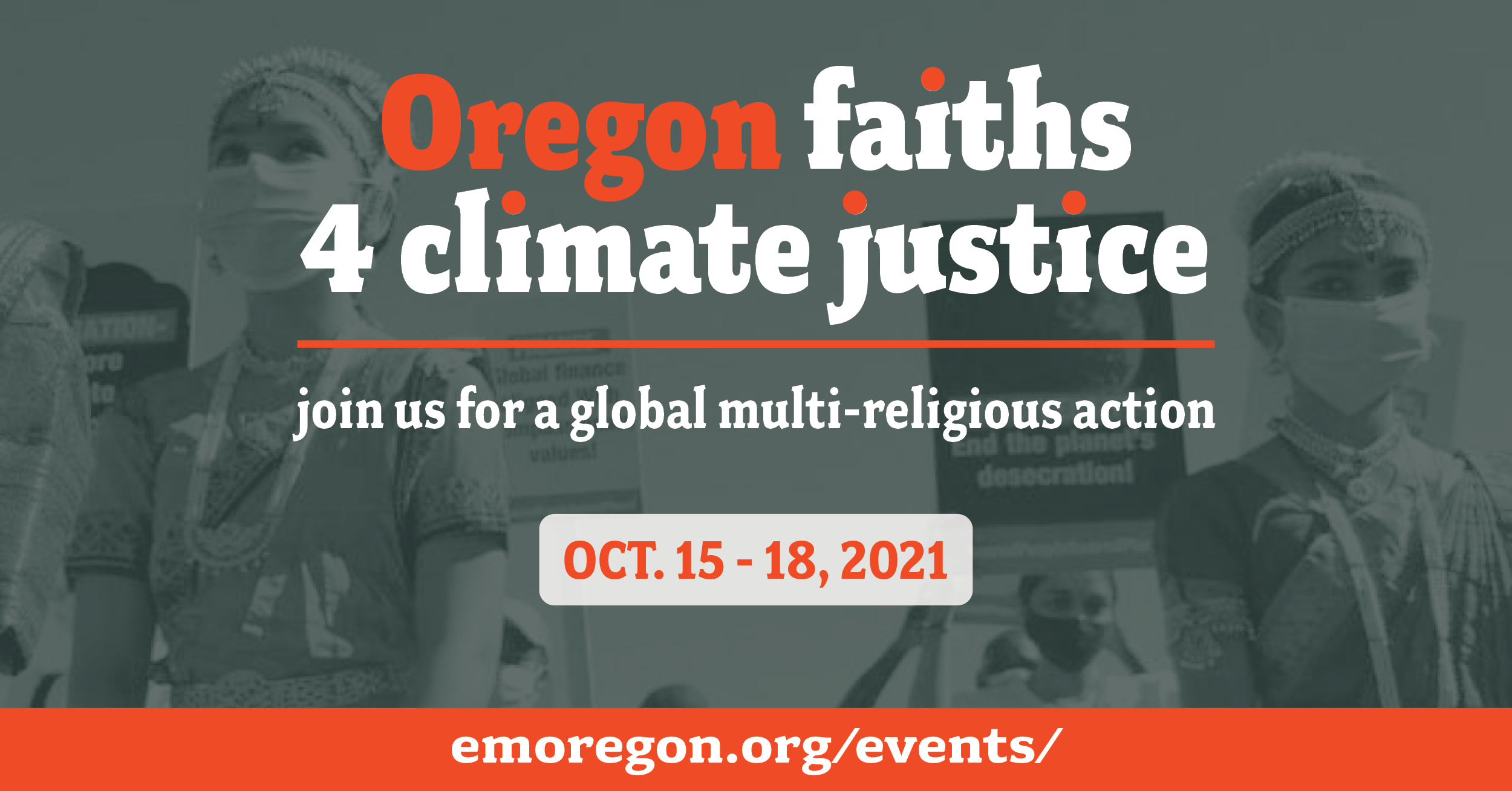 In the lead up to COP26,* EMO's Oregon Interfaith Power & Light (OIPL) is organizing an Oregon Faiths 4 Climate Justice Week of Action from Oct. 15 to 18!
As people of faith, it is important to care for the gift of the Earth, our common home, and pass on a livable planet to future generations. This is holy and sacred work and the movement is strongest when grounded in moral truth and spiritual commitment. We love our neighbors tangibly through divesting from fossil fuels.
Below are ways both you and your faith community can get involved in the fossil-fuel divestment movement, encouraging state and world leaders to do the same:
1. Create a short video about Divest Oregon with your faith community calling on state Treasurer Tobias Read to divest Oregon's Public Employee Retirement System (PERS) from fossil fuels.
Record this during your worship gathering or create a special event such as an "action hour." Send the video to us so we can compile and send them to Treasurer Read.
2. Attend the Vigil for Divestment on Oct. 18, 12 to 1 p.m.

Worship as resistance in the manner of Quakers with our partners from Multnomah Monthly Meeting. We will meet in silence (with perhaps a few songs) outside a Wells Fargo Bank that invests in the Line 3 pipeline and other fossil fuel projects. Register below to receive more details.
To view a map of all the global events and/or register your own event go to GreenFaith.
3. Call on your congregation to divest from fossil-fuel investments.
Draft a request to move your faith community's investments out of fossil fuel companies, and make a plan to circulate this request and to send to the appropriate leaders.
*The United Nations Conference of the Parties (COP26) will be occurring in Glasgow, Scotland, from Oct. 31 to Nov. 12, 2021. World leaders will be making decisions about how to reduce, mitigate, and hopefully reverse climate change. The Intergovernmental Panel on Climate Change's (IPCC) most recent report made it clear that this is one of our last chances as a global community to take action to avoid even more catastrophic climate events than we are already seeing. This means we need to transition away from fossil fuels immediately.
For consideration to add a faith-based or community event on the EMO Calendar, please fill out our Event Submission Form.