Frank's Mom (in Portland, Ore.): Frank, how was your visit today at Auschwitz?
Frank (in Krakow, Poland): It is hard to explain this feeling because the visit went well, but walking on the grounds where so many were murdered and listening to Holocaust survivors talk about the pain and trauma was emotionally taxing.
Frank's Mom (in Portland, Ore.): Going there is important, listening to how people allow evil to take control is real and why we must confront evil wherever and whenever we see it.
In January, I accompanied the Second Gentleman of the United States, Mr. Doug Emhoff, to Poland for the 78th Commemoration of the Liberation of Auschwitz Camp. As one of only a handful of non-Jews in the entourage, I felt very privileged to accompany him as we learned about efforts to combat antisemitism in Poland and throughout Europe.
In the Jesuit tradition of self-reflection, each day I considered the hardships of what over a million Jews suffered in Auschwitz, and I realized I could barely scratch the surface of what that must have been like.
I had the opportunity to speak with many of my Jewish brothers and sisters and could see how traumatic and difficult it was to take in all they saw and felt. It seems unfathomable to imagine any plan that would consider mass murder; in this case, it was Hitler's planned genocide of 11 million Jews, of which more than six million were ultimately murdered.
Walking through the exhibits of Auschwitz victims' belongings and the elaborate books kept of all the Jews murdered sits so heavy in one's heart. Seeing my Jewish colleagues look at those books to find relatives who had perished at Auschwitz filled me with sorrow and anger. How could such evil exist? Each person has a name. Each soul shall not be forgotten. There certainly was more for all of us to unpack throughout the trip and upon returning home to the United States.
Today's resurgence of antisemitism is a resurgence of evil and hate. Antisemitism has many forms, from hate speech to acts of violence. In our own country, we have heard hateful words and false accusations from celebrities and politicians, spreading intolerance and prejudice. In Portland, we have seen acts of vandalism and violence on Jewish synagogues and businesses.
I am thankful to Ecumenical Ministries of Oregon's former Presidents/Executive Directors, Jan Elfers and The Rev. Dr. Rodney Page, who have joined me in a statement condemning antisemitism and supporting our faith community and partners. You can read the statement at emoregon.org/press-releases.
We must continue to unite and not divide. EMO stands committed to inclusion and mutual support. Together with our members and partners, we are making a positive impact for the greater good of all.
---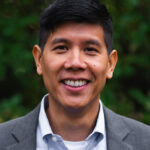 Frank So is the President of Ecumenical Ministries of Oregon. He previously served as a Vice-Presidential Associate in the Office of Vice President Harris at the White House. He frequently traveled with the Vice President, advising her office on trips outside the continental United States.