Meet Northeast Emergency Food Program's (NEFP) Manager, Jon Makler, who joined the team last October. For 40 years, NEFP has met the urgent food needs of our Portland metro area neighbors.

Tell us about your background.

Professionally, I spent more than 20 years working as an urban planner with a mission to reduce the social and environmental damage associated with transportation systems. I grew up outside of Philadelphia and am a practicing Quaker, which is much more exotic in Oregon than in Pennsylvania!
Why did you choose to work for EMO?
I decided to leave infrastructure policy work to seek something with an explicitly humanitarian mission with an employer that would value and reward my heart-first leadership approach. It was pretty terrifying to change sectors and start networking in an unfamiliar landscape.
What is your vision for the program?
We are trying to address food insecurity by providing our clients with dignity through choice: offering foods that they value according to their culture and customs. My vision is to increase the quantity of food, the number of people we serve, and the dignity we provide our clients, while accomplishing this work in a culturally competent way.
What do you find most rewarding about your work?
NEFP's staff is incredible and our volunteers are extraordinary. But the true reward is in the gratitude that our clients express during and after their shopping experience. We serve many immigrants and lately we have seen many recent arrivals from Ukraine. These are families dealing with significant trauma, and I'm proud to help lift some of the burden off with the food and service NEFP provides.
A recent example comes to mind. Our team had just closed the door after three hours of food distribution when there was a knock. I opened the door to see two parents with their two children. They spoke very little English but said, "Food please." As I walked them through the food pantry, after each section—dry goods, bread, produce, meat, eggs and milk—they thought they were done, but I kept leading them through the entire distribution line.
As the family was leaving NEFP with a cart full of food, the father said to me, "We are new refugees from Ukraine," while the mother cried tears of joy, and the son squealed with excitement over his new comic books.
What can volunteers do to assist your program?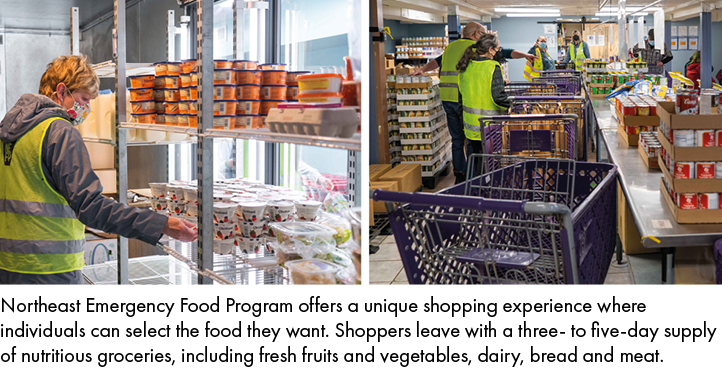 To distribute more food to more people, NEFP needs to diversify its methods, such as mobile food pantries. This will meet the needs of clients who cannot come to NEFP during our normal business hours. To accomplish this, we'll need teams of volunteers to load food in our truck and "set up shop" offsite.
It would also be great to have volunteers who speak the languages of our clients: Spanish, Vietnamese, Ukrainian, Russian and Chinese. You can see what it means to a shopper when they are greeted and guided through the pantry in their own language.
Anything else you'd like to add?
NEFP is turning 40 this year! Over these many years, there have been institutions that have sustained this service (like Luther Memorial Church, where we are housed) and individuals like former Program Manager John Elizalde, who still volunteers here every week. I'm honored to lead the program into its fifth decade.