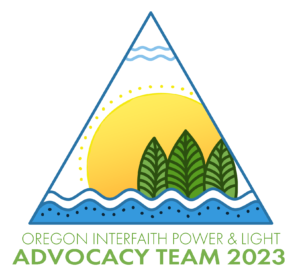 Ecumenical Ministries of Oregon and Oregon Interfaith Power & Light (OIPL), in partnership with EcoFaith Recovery, invite you to join the OIPL Advocacy Team. Sign up to receive action alerts, opportunities for training, and invitations to participate in lobbying and advocacy efforts around climate and environmental justice during Oregon Legislative Sessions.
Join us for our third annual Oregon Interfaith Power & Light (OIPL) Advocacy Team! The 2023 Oregon Legislative Session runs from January 17 to June 25. People of faith can speak up together to care for our common home and to make sure our communal actions are beneficial for current and future generations.
Throughout the session, we will have monthly Zoom gatherings on the second Monday of each month form 7 to 8 p.m. The gatherings will include information about our priority bills, and we will learn to craft our stories to share with lawmakers and take action together. You will also receive regular "action alert" emails with opportunities to email or call your legislators, submit public comments, and meet with legislators with us. We will have opportunities to participate in legislator meetings via Zoom, and we will likely be able to plan meetings in person in Salem. There will also be opportunities to speak with federal legislators in May and June.
Contact
location 245 S Bancroft St., Suite B, Portland, OR 97239
phone (503) 221-1054, ext. 228
fax (503) 223-7007
email cbock@emoregon.org
Cherice Bock, Creation Justice Advocate