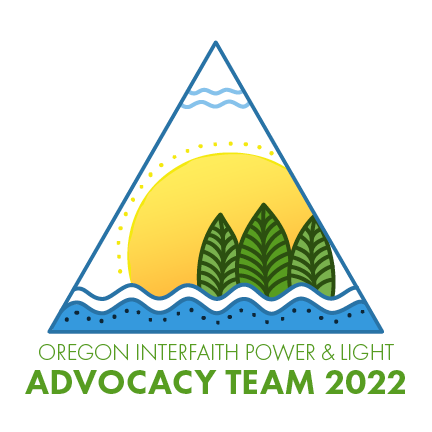 Ecumenical Ministries of Oregon and Oregon Interfaith Power & Light (OIPL), in partnership with EcoFaith Recovery, invite you to join the OIPL Advocacy Team. Sign up to receive action alerts, opportunities for training, and invitations to participate in lobbying and advocacy efforts around climate and environmental justice during Oregon Legislative Sessions. Sign up now!
CALENDAR OF ENGAGEMENT

Join us for EMO's Interfaith Power & Light Green Circles. This monthly (statewide gathering brings together people of faith from across Oregon to learn about issues of climate change, faith, and justice, and to root ourselves spiritually as we build relationships and take action together. Learn more.
Faith communities and green teams can register to host a film screening during Faith Climate Action Week (April 22 – May 1, 2022). Screenings can be in person, virtual or a combination. You can list your event publicly so others can join or simply let your own faith community or green team watch together. Register now and we will contact you to discuss the details. Learn more.

---
2022 CLIMATE BILLS WE ARE SUPPORTING

Read about the environment and climate related bills we are supporting during the 2022 Oregon Legislative Session.
Treasury Transparency, HB 4115 (EMO co-led)
Ensures that the Oregon Investment Council (OIC) publicly releases its asset holdings annually, and that the OIC and State Treasurer release assessments of climate-related financial risk to assets held in the state's investment funds. Transparency from the Treasury is the first step in addressing the risks of climate change to Oregonians. Evaluating the climate risk of investments is crucial in order to make a plan to address those risks. Read bill.

Reach Codes, SB 1518
Buildings are a significant and growing source of climate and air pollution, predominantly from burning methane gas and other fossil fuels. The State of Oregon is holding cities back from enacting more robust energy efficiency standards for buildings. The Reach code bill would allow Oregon cities the freedom to choose climate action by opting into stronger energy efficiency building standards within their jurisdictions, reducing both their climate and air pollution, which increases their livability today and for generations to come. Read bill.  |  View info sheet.

Opportunities to engage:
Farmworker Protection, HB 4002
Oregon's farmworkers are on the front lines of the climate crisis, but their arduous and increasingly dangerous work has long been excluded from overtime pay. This intentional exclusion is the legacy of racist policymaking in the 1938 Federal Labor Standards Act. Our farmworker community faces the direct impacts of climate change daily working through catastrophic fires, hazardous air quality levels, and dangerous heat waves. This bill works to ensure farm workers receive overtime wages after working 40 hours a week, and that their lives are valued by extending overtime guarantees for their labor. Read bill.
Chief Sponsors: Rep Salinas, Holvey; Sen Taylor, Frederick, Jama, Manning Jr., Wagner
Sponsors: Campos, Sanchez; Sen Lawrence Spence, Lieber
Opportunities to engage: 
Emergency Heat Relief
Last summer, Oregonians experienced extreme heat waves and bad air quality from fires, the culmination of many years of hotter summers and a worsening climate. The consequences were devastating, especially for renters in multi-family and manufactured homes. Access to cooling is essential, but there are many barriers that low-income and environmental justice communities face. The Emergency Heat Relief package is carefully crafted to support the needs of these communities and remove barriers for renters in installing life-saving technologies. Visit emergencyheatrelief.org (English and Spanish) and download an action alert to learn more about the bills, find key talking points, and take action. View info sheet
There are two bills in the package that do the following:
Emergency Heat Relief for Communities, HB 4058 – Read bill.
$5 million for emergency (efficient) air conditioner and heat pump deployment through Oregon Health Authority.
$10 million for efficient heat pump deployment through Oregon Department of Energy, prioritizing low-income and environmental justice communities on bulk fuels.
Directs PUC and utilities to establish rate relief specific for weather-related bill spikes.
Emergency Heat Relief for Renters, SB 1536 – Read bill.
Removes barriers to renters to install air conditioners.
Gathers data about transitioning rental housing to including cooling and establishes scenarios in which that transition is required.
$10 million to Oregon Department of Energy for efficient heat pump installation by landlords; preferences housing that is affordable.
$2 million to Oregon Department of Human Services for community cooling centers.
---
2021 CLIMATE BILLS WE SUPPORTED

Read about the environment and climate related bills we supported during the 2021 Oregon Legislative Session.
PASSED: HB 2475 Energy Affordability Act: one-page info sheet; EMO Testimony
PASSED: HB 2842 Healthy Homes: one-page info sheet; EMO Testimony
PASSED: HB 2021 Clean Energy for All: one-page info sheet; EMO Testimony
SB288 Governor Brown's Resilience Bill: EMO Testimony
PASSED: SR 17 Environmental Justice for Oregon (NAACP Eugene-Springfield/Beyond Toxics): "One -page info sheet"; EMO Testimony; watch Senate Committee Hearing
Contact
location 245 S Bancroft St., Suite B, Portland, OR 97239
phone (503) 221-1054, ext. 228
fax (503) 223-7007
email cbock@emoregon.org
Cherice Bock, Creation Justice Advocate