A statement by Rev. Audrey Zunkel-deCoursey, of Ecumenical Ministries of Oregon. Remarks shared in part at Lift Every Voice Oregon press conference January 17, 2019. Photos from LEVO rally and vigil on January 27, 2019.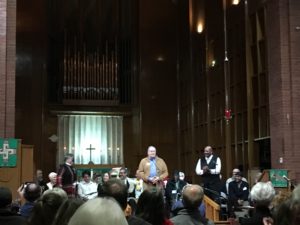 EMO is an association of Christian congregations, denominations, organizations and interfaith partners. Our members and partners reside in every corner of our state. And in every corner of our state, Oregonians live under the threat of gun violence – the threat we all face, when weapons engineered for war enter our communities. This is an Oregon problem: from Umpqua Community College to Reynolds High School to Clackamas Town Center.
And so we stand here today, heartbroken by loss, and inspired by the moral clarity of our nation's youth, ready to join in the call to ban assault weapons and high-capacity magazines.
It is our hope and our commitment to help save lives, and ultimately to end the epidemic of gun violence, one step at a time. We are grateful that Oregon is on the verge of several important steps to reduce the dangers and prevent violence. But it is this campaign in particular, Lift Every Voice Oregon, this effort to ban assault weapons and high-capacity magazines, that we feel most strongly needs our voice as people of faith, because, in many ways, this is one of the toughest asks facing our legislature, one of the biggest changes our state could take. It is the big steps that require the greatest amount of courage and faith – and the most allies to come together and raise their voices.
But the time for change is now – and people of faith and goodwill are called to take the lead. Too often, after gun massacres, elected leaders have offered "thoughts and prayers" as substitutes for action. As people of faith, we must make clear that "thought" entails considering the evidence and strategizing needed change; that true "prayers" are done not with words alone, but with our feet, with our hands, healing the harm and protecting future generations.
Faith leaders spoke out about this four years ago – in the time it took for middle school students to enter and then graduate high school. Faith leaders from EMO, the Catholic Archdiocese of Portland and the Jewish Federation of Greater Portland wrote, the number of firearm deaths is not merely a statistic, but
"a grim accumulation of shattered families and stolen futures that our society must confront. It is imperative that Oregonians work together to create a society that provides a hopeful future for all, free of violence."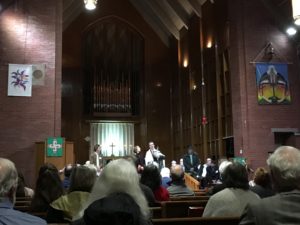 Led by the brave voices of our nation's youth, led by our love for one another, we join with people of faith and people of goodwill across this state to make our communities safer. Please join us.